THE DRUNKTIONARY P-S
Pabbed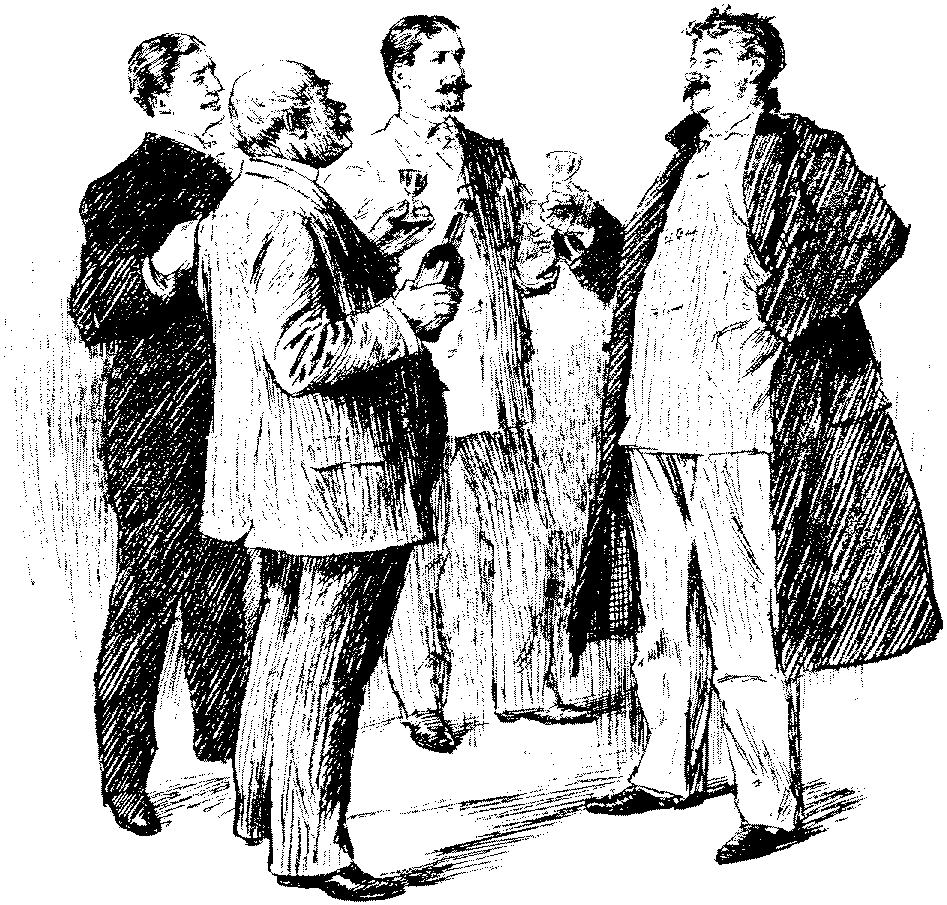 Packaged
Packing
Padded
Paddled – May refer to noisy imbibing.
Pafisticated
Paid – Probably refers to people getting drunk on payday. Cf. "Giffed." British, since circa 1635.
Painted
Painted the town - I.e., painted the town red.
Paintin' one's nose – Drinking esp. whisky crapulently. "Nose paint" is whisky or other strong drink.
Painting the town red
Pal-looral – Glasgow slang, noted circa 1934.
Palatic/Pallatic – From term for "relating to the palate," or a corruption of "Paralytic." British, since circa 1885.
Palatio
Paled – Completely exhausted by drinking, wasted. Canadian teen slang.
Paled out
Palled – Totally drunk. From word for "sated." Late 1600s.
Para
Paralytic – Very drunk. Australian, since circa 1910.
Paralyzed – Heavily inebriated. From the effects of intoxicants. Since the 1890s.
Parboiled – Probably an elaboration of "Boiled."
Partying – From drug slang.
Partying with no regard to one's personal safety
Passed
Passed out – Sleeping due to drunkenness. Originated in the British military circa 1910; US use since the mid 1900s.
Passed out cold
Passed out of the picture
Past going
Past gone
Pasted – Cf. "Glued."
Pealaid
Peckish – British, 1800s.
Pedo
Pee-eyed – From P.I., the first two letters in "Pissed."
Pee'd – Possibly a nicety for "Pissed."
Peekish
Pegged
Pegged out – Probably from a slang term for "dead," which originated as a cribbage term. Also, a "peg" is a dram of liquor, and to "peg" means to consume intoxicants. Cf. the following.
Pegged too low – To "peg too low" means to be depressed and in need of stimulants. "Peg" is an old word for ale, from the pegs used to measure half-pint drafts in a tankard. It seems odd that "pegged too low" should mean "drunk" when "a peg too low" means "depressed," unless this term refers to the peg going lower and lower in the tankard as people take their share of drink.
Peonied
Pepped
Pepped up
Peppy
Pepst – Origin unknown. From circa 1570.
Perked – British army, since WWI.
Perpetual drunk
Pertish – Fairly drunk. British, circa 1760 to circa 1820.
Perved – Having the perfect buzz, not totally drunk but pleasantly inebriated. US college slang.
Petrificated
Petrified – "Stoned."
Phazed/Phased – From drug slang.
Phfft
Pickled – Cf. "Soused." Since circa 1926.
Pickled one's debts
Pickled oneself
Pickled the mustard
Piddled – A nicety for "Pissed."
Pie-eyed/Pye-eyed – The origin of this term is uncertain, as drunkenness causes the pupils to contract rather than dilate. Perhaps this term comes, rather, from the inability of the eyes to focus. US, since the late 1800s.
Pied – From "Pie-eyed."
Pied-eyed and shitfaced
Piffed
Pifficated – Variation of "Pifflicated."
Piffle
Piffled – Probably from "Pifflicated." Since the 1910s.
Pifflicated/Piflicated – Very drunk. From "Spifflicated." US and Bahamas, since the 1910s.
Pifted
Pigeon-eyed – Noted by Benjamin Franklin.
Pilfered
Pin drunk – A "pin" is 4½ gallons of liquid or the vessel holding it. Or, it may be related to "Pegged" or "Pegged too low," since "pin" can mean the peg used to measure half pints.
Pinked – Tipsy.
Pinko – Usu. means drunk on methylated spirits. British and Australian, since circa 1925; may have started in the armed forces. Alternately, may have been influenced by "Blotto" since blotting paper is often pink.
Pinning one on
Pious – Cf. "Religious," "Preaching drunk."
Piped
Piped up
Piper drunk
Piper-fou – See "Drunk as a fiddler," "Fou."
Piper merry
Pipped
Pipped-up
Piran – The British St. Piran, patron of tinners, supposedly died while pickled.
Piscatorically drunk – Drunk as a fish. Based on Latin "piscis," fish.
Pished – Scottish variation of "Pissed."
Piss-completed
Pissant drunk
Pissed – Very drunk. Primarily British, as are most terms that include this word or a form of it. Was popular during the 1970s and 1980s, but has fallen out of favor.
Pissed as a coot
Pissed as a cunt
Pissed as a fart
Pissed as a fiddler's bitch
Pissed as a newt – Probably the most common elaboration of "Pissed."
Pissed as a parrot – Australian.
Pissed as a piard – Used by the RAF in Iraq, 1920 to 1945.
Pissed as a pig
Pissed as a rat – Cf. "Drunk as a drowned rat."
Pissed as a skunk
Pissed as arseholes – Very drunk. Dates back to at least the 1400s.
Pissed in the brook – Noted by Benjamin Franklin.
Pissed out of one's mind
Pissed out of one's tiny mind
Pissed to the ears
Pissed to the earlobes
Pissed to the eyeballs
Pissed to the eyes
Pissed to the gills
Pissed-up – Very drunk. A "piss-up" is a bender. British wartime.
Pissed up to the eyebrows – British military.
Pissing
Pissing drunk – Heavily intoxicated. British, 1800s.
Pissy drunk
Pissing fou
Pissy – Because heavy drinking leads to frequent urination. Or, from "Pissed." Bahamian slang.
Pissy-arsed – Indicates that one has a tendency to get drunk. British.
Pissy-drunk
Pissy eyed
Pistol shot – Elaboration of "Shot." A "pistol shot" is a drink of spirits.
Piston broke – Drunk and penniless. Pun on "pissed and broke."
Pistorically drunk – Variant of "Piscatorically drunk."
Pitching a leave – US army slang.
Pitted
Pixilated/Pixillated/Pixolated – Silly from drink. From a word for "daffy," means enchanted by pixies. Alternately, "pixy-led" plus "intoxicated," or a variation of "impixlocated." US, mid 1800s.
Pixy-laden
Pixy led
Pizz – Shortening of "Pizzicato"
Pizzicato – Tipsy. Partial disguise of "Pissed." British, since circa 1930.
Placated
Plain drunk
Plain old drunk
Planted
Plastered – Because the smell of intoxicants sticks to one, or from the immobility of a limb in a plaster cast. Also, to "plaster" a game bird means to blow it to pieces. May have military origins.
Plated
Played out
Playing camel(s) – Drinking to find out how much booze one can hold. From the fact that camels drink huge amounts of water at a time.
Playing the Greek
Playing the harp – Drunk and getting home by the railings. Irish.
Pleasantly intoxicated
Pleasantly jingled
Pleasantly plastered
Plenty drunk
Plonk – Cf. next term.
Plonked – Done in by "plonk," cheap or hard liquor, or white wine. Derived from French "vin blanc," white wine. Originally Australian, since WWII.
Plonked up
Plootered – Tipsy. From "plouter," Anglo-Irish to splash or wade in water or mire.
Potched
Plotzed – Possibly from Yiddish "plotzen," from German "platzen," "split" or "burst."
Plowed/Ploughed – British & US, since the 1800s.
Plowed over
Plowed/Ploughed under
Ploxed
Plucked
Plumb drunk
Plumb numb – Unconscious. Cowboy slang.
Pocito
Poddy – Tipsy. Cf. "Pogy." British & US, mid 1800s to early 1900s.
Podgy
Poegaai/Poegah/Poegai – Pronounced poe-khai. South African slang, from Dutch "poechai" for "fuss" or "bother." Possibly from the same source as "Pogy."
Poffered
Poggled – Madly drunk. Cf. "Puggled." British army, since the late 1800s.
Pogy/Pogey/Pogie – Probably originally cant. "Pogy!" or "pogeyaqua!" (means "little water") means "Make the grog strong!" British & US, since the 1800s.
Poisoned – Probably from the phrase "Name your poison."
Polished
Polished up
Polite
Polled-off – Possibly from "poll" for "head." British, 1800s.
Polluted – Extremely drunk. Possibly a reference to the impure condition of the bloodstream. Cf. "Laced."
Pooped – From nautical term for a sailor who has been knocked down by a wave coming over the stern.

Pooped out
Pooped up
Poopied
Popeyed/Pop-eyed
Popped
Possessed
Pot
Pot-eyed
Pot-hardy
Pot-shaken
Pot-shot – A pun on the term "pot shot," a shot at game to provide something for the dinner pot. Cf. "Cup-shot." British, 1800s.
Pot-sick – Since the late 1500s.
Pot-sure – Courageous from imbibing spirits. Cf. "Full of Dutch courage." British, 1600s.
Pot-valiant/Potvaliant – Since the early 1600s.
Pot-valorous
Pot-walloped
Potated – Probably from "potation."
Potched
Pots on
Potsed
Potsville
Potted – A "pot" is a flagon, more specifically, a quart measure; or a drunkard. To "pot" is to drink spirits.
Potted off
Potted up
Potty
Potulent – Since the mid 1600s.
Powdered – Underworld slang. "Powder" is a drink of liquor.
Powdered one's hair – Euphemism coined by a polite landlord. Originated in the days when men wore elaborate wigs, which were usually powdered. To "powder one's hair" means to get drunk in tavern slang.
Powdered up
Practically down
Praying to the porcelain god – Vomiting from intoxication.
Preaching drunk – Almost drunk.
Preserved – Variation of "Pickled."
Prestoned – After a brand of antifreeze. See "Antifreezed."
Pretty drunk
Pretty far gone
Pretty happy
Pretty high
Pretty silly
Pretty well enter'd
Pretty well intoxicated
Pretty well organized
Pretty well over
Pretty well plowed
Pretty well primed
Pretty well slacked
Pretty well started
Priddy
Primed – Ready to "explode into action." British & US, since the 1800s.
Primed to the ears
Primed to the muzzle
Primed to the nuts
Primed to the sticking point
Primed to the trigger
Primed up
Pruned – From "prune juice," strong liquor, or because one feels like a tree that has been pruned.
Psatzed
Psyched out
Puggled – Madly drunk. "Puggle pawnee" is British army slang for rum, from Hindi "pagal pani" meaning "mad water." British army use.
Puggy
Puggy drunk
Pulled a Daniel Boone
Pulled a shut-eye
Pulled the drunk act
Punch aboard
Punch drunk – Drunk on punch, dazed by drink, or dead drunk. From boxing term for when a pugilist becomes eccentric after suffering too many blows. Reinforced by "punch" as in alcoholic beverage.
Punchy – From either "Punch drunk" or from alcoholic punch.
Pungy/Pungey – Noted by Benjamin Franklin.
Pushed – From the tendency to fall. British, late 1800s to early 1900s.
Pushed out
Pushing about the bottle – Nautical, late 1700s to late 1800s.
Put a full cargo aboard – Cf. "Loaded."
Put down – Dates to at least the 1500s. Appears in Shakespeare's Twelfth Night.
Put in the pin
Put on the drunk act
Put to bed with a shovel – Extremely drunk. Phrase means "dead and buried"; thus, the allusion is to the internment of a corpse. Refers to one who is so drunk that one needs assistance in getting to bed.
Putrid
Puttin' on the rollers – Cowboy slang.
Putting it away
Putting one on


Quadded
Quaffed
Quaint – May have been inspired by the movie Dumbo.
Quaked
Quarrelsome
Quartzed
Queer – Because one who is drunk usu. behaves eccentrically.
Queer in the attic – Refers to the bizarre behavior caused by drinking. "Attic" is British slang for the mind.
Queered – Tipsy. British, early to mid 1800s.
Quenched
Quick-tempered – Cf. "Fighting drunk," "In armor."
Quilted
Quisby – From mid 1800s term for "out of whack." British, 1800s.
Quite gone
Quite high
Quoxed


Racked – Possibly from term for "tired."
Racked up
Raddled – Reddened by drink. "Raddle" is red ochre. Also, to "raddle" is to do anything to excess. 1600s to 1700s.

Ragged – US, since the 1700s.
Raised
Raised one's monuments
Rallying – Acting drunkenly.
Ramaged/Rammaged – From 1400s Scottish term for "frenzied." Since the late 1700s.
Rampaging – Very drunk.
Ramping mad – Drunk and angry. British, mid 1800s.
Rat-arsed/Ratarsed – British teen slang of the 1980s.
Rat-assed
Rather high
Rather touched
Rats in the attic – From "Has rats in the attic."
Ratted – British society use.
Rattled – Heavily intoxicated, having impaired senses. Since the mid 1800s.
Ratty
Ratty as a jaybird
Raughty – Variation of "Rorty."
Raunchy/Ronchie – Originally meant sloppy, and from this meaning came to mean "drunk."
Razzle-dazzle
Razzle-dazzled
Reached a hundred proof – "Proof" is the measure of the percentage of alcohol in potent potables. 100 proof means 50% alcohol, so this may mean half drunk.
Reading Geneva print – From a pun on "Geneva" and French geniθvre, juniper berry.
Ready
Ready to pass out
Real drunk
Real mellow
Real tipsy
Real turned on – Beatnik talk.
Really
Really clobbered
Really feeling one's drinks – Very drunk.
Really gassed
Really got/had a load
Really high
Really lit
Really lit up
Really saturated
Really soused
Really tied one on
Red about the gills
Red-eyed
Red lighted
Redirected
Reeking – Stinking drunk.
Reeling
Reeling and kneeling
Reeling ripe – British & later US, since the 1600s.
Reeling 'round like a puppy tryin' to find a soft spot to lie down – Cowboy slang.
Reely – Rare term for tipsy. British, since circa 1933.
Relaxed
Relaxing
Religious – Because one is faithful in attending a particular tavern. "One of the faithful" is a souse who always shows up at the same place. Noted by Benjamin Franklin.
Remembering Parson Mellham – Drinking about. Norfolk phrase, from the cry "Remember Parson Mellham!" (sometimes rendered as Parson Mullam), meaning "Pray drink about, sir."
Re-raw/Ree-raw – From "On the re-raw."
Revved up – Mildly drunk.
Rich
Riding out of town with nothing but a head
Riding the porcelain bus
Riffed
Right
Right before the wind with all studding sails out
Right before the wind with all the/one's studding sails out – Noted by Benjamin Franklin.
Right down and out
Right royal
Right up there with the best of them
Righteous
Rigid – Passed-out drunk.
Rileyed
Rip-roaring drunk – Drunk and boisterous.
Ripe – Ready to fall; may refer to a ripe fruit ready to drop off a tree. Since the 1600s.
Ripped – Extremely inebriated. May have originated in drug culture.
Ripped and wrecked
Ripped off
Ripped to the tits
Ripped up
Ripskated
Road hugging
Roaring – Short for "Roaring drunk."
Roaring drunk – Noisily intoxicated, drunk and boisterous.
Roaring fou
Roasted
Rockaputzered
Rocked
Rocky – From instability and "rocking" of drunk. Noted by Benjamin Franklin.
Rolled off the sofa
Rolling
Rolling drunk
Rooked
Roostered – Cf. "Cocked." US euphemism.
Roostered up – Cowboy slang.
Rooted – Possibly from Australian slang for "exhausted" or "out of action."
Roped
Rorty – Noisy and argumentative from drunkenness. A "rort" is a wild party in Australian slang. Naval.
Rosined – "Rosin" is old slang for the liquor given to musicians who play at a party. Cf. "Drunk as a fiddler." Primarily US use, since the 1700s.
Rosy/Rosie/Rosey – Tipsy, reddened by drink. Since the late 1800s.
Rosy about the gills – "Rosy" plus "Up to the gills."
Rotten - Widespread since the 1800s.
Rotten drunk
Rough about the edges
Round as a glass
Round the bend
Rouzy-bouzy - Boisterously drunk
Royal - British, early 1800s.
Royally drunk
Royally plastered
Rubber - Scottish slang
Ruined - Possibly from "mother's ruin," English slang for gin. Or, may come from drug slang. British teen use.
Rulling drunk - Variation of "Rolling drunk."
Rum-dum(b)
Rummed
Rummed rye
Rummed up
Rummied
Rummy
Rung one up
Running amok/amuck
Running drink
Rushing the growler - In the 19th century, due to the lack of refrigeration, it was common practice to send children to a local saloon to fetch beer in a pail or pitcher, which was called a "growler." Since these children were often in a hurry, they were said to be "rushing the growler." Today, to "rush the growler" means to drink heavily.
Rye-soaked


Salt – Short for "Salt junk." Late 1800s to early 1900s.
Salt junk – Rhyming slang for "drunk." Cf. "Elephant's trunk." British, late 1800s to early 1900s.
Salted/Saulted – Since the late 1800s; rare since circa 1931.
Salted down
Salubrious – From drinking "healths" to others. British, since the 1870s.
Sank like a brick
Sank like a rock
Sank like a stone
Sap-happy – Patterned on "slap-happy." "Sap" is booze.
Sapped
Sappy
Saturated – Heavily inebriated. Description of the bloodstream.
Sauced
Saw Montezuma
Sawed
Scammered – Possibly from "scammer," to climb or scramble. Since the 1840s.
Schice
Schicker/Schikker/Shicker/Shikker – From Yiddish, from Hebrew "shikor." "Shicker" is Australian slang for strong drink, or to drink heavily, or to get drunk. British army use, esp. the latter two spellings.
Schizzed – Pronounced "skizzed." Because drunkenness supposedly causes schizophrenia.
Schizzed out
Schlockered
Schloggered
Schlonkered
Schmidt-faced - Nicety for "shit-faced."
Schnapped – Probably from schnapps. US, since the mid 1800s.
Schnockered/Schnokkered/Shnockered
Schnoggered
Schnookered – Midwestern U.S. use
Schnozzled too deeply
Schwacked
Schwasted - Really drunk, ultimate drunkenness
Scoop
Scooped
Scorched
Scotch mist – Rhyming slang for "Pissed." A Scotch mist is a heavy, soaking rain enough to wet an Englishman to the skin. British, since the 1920s.

Scragged – Probably from cant for "dead."
Scrambled
Scranched – Variant of "Scraunched."
Scratched – From cant. Since the early 1600s.
Scraunched/Scronched
Screaming – Drunk and quarrelsome. Also, a "screamer" is a party animal, and a "two-pot screamer" is someone who gets drunk on very little booze.
Screaming drunk
Screechers – Shortening of "Harry Screechers."
Screeching
Screeching drunk
Screwed – May be a pun on "Tight." Chiefly British, since the 1840s.
Screwed, blued and tattooed – Very drunk. From term for "badly cheated." Because targets for forcible enlistment in the navy were gotten drunk and carried off, and woke up in Shanghai (hence the verb "shanghai").
Screwed, stewed and tattooed – Variant of the above. Nautical slang.
Screwed tight
Screwy/Scruey – From this word's sense of "crazy or from "Screwed." British, since the early 1800s.
Scrooched
Scrooched up
Scrooped
Scudded
Scuppered
Seafaring
Seasick
Seasoned
Second hand drunk – Intoxicated from the breath of a drunk. Humorous. Cf. "Sniffed the barmaid's apron."
Seeing a flock of moons
Seeing bats
Seeing bears
Seeing by twos
Seeing double – Since the early 1600s.
Seeing double and feeling single
Seeing elephants
Seeing one-a-piece
Seeing pink elephants
Seeing pink spiders
Seeing rats
Seeing snakes – Suffering delirium tremens. Since the 1800s.
Seeing the bears
Seeing the devil – 1700s to 1800s.
Seeing the elephants
Seeing the French king - May be a reference to someone drunk on French wine or brandy. 1600s
Seeing the snakes
Seeing the yellow star
Seeing-things drunk
Seeing things that ain't in natural history – Cowboy slang.
Seeing things that aren't there
Seeing triple
Seeing two moons – Noted by Benjamin Franklin.
Seeking the comfort of Lyaeus – Getting drunk on wine. "Lyaeus," "the freer," is an epithet of Bacchus.
Seen a ghost
Seen one out – Has out-drunk said person, has drunk someone under the table. Cf. "Drunk as a lord," "Made a bridge of one's nose."
Seen the devil
Seen the governor – "Seein' the governor" is Toronto slang for drinking rum.
Seen the sun
Seguιd
Selling Buicks – Vomiting due to alcohol consumption. US college use.
Semi-bousy/Seimbousy – From the 1400s.
Sent – In an altered state of consciousness.
Served
Served-up
Set up – To "set 'em up and pour 'em down" means to drink intemperately.
Seven sheets to the wind – See "Three sheets in the wind."
Several slugs behind the midriff – A "slug" can mean a drink, so this phrase has two meanings.
Sewed
Sewed/Sewn up – Exhausted or sick from intoxication. The imagery is of a corpse sewn up in canvas before burial. Since circa 1818.
Sewed up with booze
S.F. – Shit-faced.
S.F.'ed
Shagged
Shaggy
Shaking a cloth in the wind
Shaky – The "shakes" is an attack of trembling due to drunkenness.
Shammered – US college slang.
Shark-sick – Used by native Greenlanders. Eating the flesh of the Greenland shark can cause vomiting, diarrhea, convulsions, and the appearance of drunkenness because it contains the toxic substance trimethylamine oxide.
Shattered
Shaved – A "shave" is a drink. Possibly from the excuse of going out for a shave when one is really going out for a drink. Since the late 1500s.
She had cider inside her insides
She has been a good wife to him – Said of a woman rolling drunk in the streets.
Sheep drunk
Sheet and a half in/into the wind – See "Three sheets in the wind."
Sheet in the wind – See "Three sheets in the wind."
Sheet in the wind's eye
Shellacked – Very drunk. From one's glazed-over appearance. Since the 1920s.
Shellacked the goldfish bowl
Sherbetty/Sherbety – "Sherbet" is a glass of warm liquor. British, since the late 1800s.
Shews one's hobnails – Drunk and lying on the floor.
Shice/Shise/Schise – Possibly from Yiddish term for "no good." British.
Shicer/Shiser – Cf. above term. British.
Shicery
Shick – Australian.
Shicked – Possibly from "Schicker." US and Australian, since the mid 1800s.
Shickered/Shikkered – Australian. See "Schicker."
Shickery/Shikkery – Variation of "Shicked." From the late 1800s; obsolete by circa 1935.
Shifassed – Partial disguise of "Shit faced."
Shikkur – Hebrew.
Shined
Shined up
Shiny – Lightly intoxicated.
Shiny drunk
Shinny
Shipwrecked – British naval.
Shit faced/Shitfaced/Shit-faced – Possibly from "Shitface drunk."
Shitface drunk – A "shitface" is a drunken party.
Shithoused
Shitty
Shoe pinches one – Gives an explanation for one's staggering gait. Noted by Benjamin Franklin.
Shoed the goose
Shooting the cat – Vomiting from intoxication. Cf. "Whipcat."
Shorty
Shot – Shortening of "Shot in the neck." This term and all its derivatives are reinforced by "shot" as in a quick drink of booze. Since the 1870s.

Shot away – British, 1800s.
Shot down
Shot full of holes – Heavily drunken. Originated in New Zealand circa 1915, spread to Australia by 1918, widespread since the 1940s.
Shot in the arm
Shot in the ass
Shot in the head
Shot in the mouth
Shot in the neck – Since the 1800s.
Shot in the wrist
Shot the cat
Shot to ribbons – Very drunk. RAF since circa 1939.
Shot under the wing – See "Hit under the wing."
Shot up
Shouting oneself hoarse – A "shout" is a general invitation to drink, so to "shout oneself hoarse" is to get soused.
Showing drink
Showing it
Showing one's booze
Showing one's drink(s)
Showing one's hobnails
Showing one's tipsiness
Shredded
Shucked – US college use. Usu. refers to marijuana, but applicable to booze.
Sick
Sighting the yellow star
Silly
Silly drunk
Simply stinko
Singed
Sinking like a rock
Sir Richard has taken off one's considering cap – Noted by Benjamin Franklin.
Six sails in the wind - Variation of "Six sheets in the wind." Probably coined by landlubbers who thought "sheets" mean the sails rather than the ropes that bind them.
Six sheets in the wind – See "Three sheets in the wind."
Sizzled
Skated
Skating – Exhilarated. May have originated as a drug term. Since circa 1955.
Skeerewy
Skew-whiff – Means "crooked," so may refer to a drunk's leaning or staggering gait.
Skimished – Derived from "Ishkimmish." Also, "skimmish" is vagrant slang for beer.
Skinful – Cf. "Borracho."
Skizzled
Skrilla – US college slang.
Skulled
Skunk drunk – See "Drunk as a skunk." Probably reinforced by "Stinking drunk."
Skunked – Very drunk, "stinking" drunk.
Skunky
Slambasted - "Slam(med)" plus "Lambasted."
Slammed
Slanted
Slap drunk
Slap-happy
Slathered – Smothered in alcohol. Australian & US.
Slaughtered
Sleazy
Sleepy
Sleeve-button
Slewed/Slued – Off balance. To "slew" means to swing around or veer. British nautical, since the 1840s.
Slewed in one's hammock
Slewy
Slick
Slickered
Slightly buzzed
Slightly clobbered
Slightly damaged
Slightly damp
Slightly draped – US army slang.
Slightly drunk
Slightly elevated
Slightly high
Slightly looped
Slightly rattled
Slightly tightly – Slightly tipsy, not all-out drunk. British, late 1800s to early 1900s.
Slightly under
Slightly woozy
Slippery
Slipping
Slithered – From a rogue Red Cross tweet
Slobbered
Slopped – From general sloppiness of appearance, speech, movement, etc. Also, suggests liquid slopping out of an overfull glass.
Slopped over
Slopped to the ears
Slopped to the gills
Slopped up
Slopping up
Sloppy
Sloppy drunk – Since the late 1800s.
Sloshed
Sloshed to the ears
Sloud
Sloughed
Sloughed up
Slug-nutty – A relative of "Punch drunk." Reinforced by "slug" as in a drink or swallow of spirits.
Slugged – Cf. "Several slugs behind the midriff."
Slugger
Sluicing one's/the bolt
Sluicing one's/the dominoes – Here "dominoes" are one's teeth.
Sluicing one's/the gob
Sluicing one's/the ivories
Sluicing the worries
Slurks
Slushed
Slushed up
Smashed – Very drunk. To "smash a brandy peg" means to take a drink. "Smash" is brandy (any potent potable in the US) and water.
Smashed out of one's mind
Smashed to the gills
Smeared
Smeekit – Originally Scottish, may mean "smoked." British, 1800s.
Smelled the big cork
Smelling of liquor
Smelling of the cork
Smells like a still
Smells like a tap-room – Appears in the writings of Anton Chekhov.
Smelt of an onion – Noted by Benjamin Franklin.
Smitten by the grape
Smockered
Smoked
Smuckered
Smurfed up - Possibly an allusion to the blues or "blue devils," since Smurfs are blue
Snabble-d-dabbled
Snacked
Snackered
SNAFU – From the military acronym for "Situation Normal, All Fucked Up."
Snake-bitten – "Snake poison" or "snake juice" is liquor, esp. bad whisky.
Snapped/Snapt – Possibly a variation of "Schnapped."
Snarfed
Snazzled
Snerred
Sniffed the barmaid's apron – One who "sniffs the barmaid's apron" is one who gets drunk easily.
Sniffy – To "sniff" means to drink strong booze.
Sniggled
Snockered/Snokkered – From term for "sock" or "knock," or possibly from British dialect "snock," meaning a blow.
Snockered to the gills
Shockered/Snokkered up
Snoggered
Snonkered
Snookered
Snooted
Snootered
Snootful/Snootfull
Snoozamarooed
Snoozed
Snot-flinging drunk
Snotted
Snowed
Snozzle-wobbles
Snozzled
Snubbed
Snuffy – Tipsy. Possibly from this word's meaning of "displeased." British & US, since the 1820s.
Snug – Comfortable. Many English inns have a "snug bar," also called a "snug."
So – From "So-so." British euphemism, since circa 1820.
So-so – Unwell. Cf. "Ill," "Under the weather." Since the early 1800s.
Soaked – Very inebriated. Since the 1700s.

Soaked in rye
Soaked it up
Soaked one's face
Soaked to the gills
Soaked up
Soaken
Soako
Soapy-eyed
Sobbed – Cf. "Crying drunk," "Maudlin."
Sober as a judge on Friday – Slightly tipsy. Because a judge's work week ends on Friday. Patterned on the phrase "Sober as a judge."
Soberly challenged - Mock politically correct term.
Socked
Sodden
Sodden drunk
Soft
Soggy
Sold one's senses
Some-drunk
Somebody stole one's rudder
Someone blew out one's pilot light – Said person has lost all direction. US college use.
Soogeying the bulkhead – To "soogey" means to scrub. Nautical.
Sopped
Sopping
Sopping wet
Soppy
Sore footed – Cf. "Shoe pinches one," "Walking on rocky socks."
Soshed
Sossled/Sosseled – From "Sozzled."
Sot drunk
Sotally tober
Sotted
Sotted in the main brace – See "Has spliced the main brace."
Sotted up
Sottish
Sotto
Soufflιd
Soul in soak – Literally, soaking drunk. See "A soul." Nautical.
Souple
Soupy – Sick from drinking. British, late 1800s to early 1900s.
Soused/Soust – To "souse" is to drink to the point of intoxication. Extension of "souse," pickling brine or some thing pickled. Since the mid 1800s.
Soused to the ears
Soused to the gills
Southern-fried – Elaboration of "Fried."
Sow drunk – Cf. "Drunk as David's sow." British, 1800s.
Sozzled – Splashed. "Sozzle" means to mix or render moist in a sloppy manner. Since the late 1800s.
Sozzly
Spaced – Probably originated as drug slang.
Spaced out – Because drunks are often dazed or incoherent.
Spacy/Spacey
Spak – Pidgin.
Spanked
Sparked
Sparred
Speared
Speechless – Very drunk. British, since the late 1800s.
Spiffed – From either "Skew-whiff" or "Squiffed." Originally Scottish, has spread since the 1800s.
Spifficated
Spiffilo
Spiffled
Spifflicated/Spiflicated – Since the late 1700s.
Spifflo
Spiked – From this word's sense of "containing alcohol."
Spinning on the merry-go-round of cocktails
Spirited – A reference to "spirits" as in potent potables.
Spitting feathers – From the dryness of the mouth.
Splashed
Spliced – Possibly from "Has spliced the main brace."
Splifficated
Spliffo
Sploshed
Spoiled
Spoiling
Spoken with one's friend
Sponge-eyed
Sponge-headed
Spoony
Spoony drunk – Drunk and melancholy or sentimental. 1800s.
Spotty
Spreed
Spreed up
Spreeish
Sprinkled – Cf. "Dagged."
Sprung – Slightly drunk. From term for a ship that has sprung a leak but is not sinking. British & US, since circa 1825.
Squamed
Squared
Squashed – Very drunk.
Squiffed – Possibly from "Squiffy." British & US, since the late 1800s.
Squiffed out
Squiffy – May mean uneven or lopsided. Possibly from "Skew-whiff." British & US, since the 1870s.
Squiffy-eyed – British, late 1800s.
Squirrely
Squished
Squizzed – 1800s
Staggered by firewater
Staggering
Staggering around
Staggering drunk
Staggerish
Staggers
Staggery
Stale
Stale drunk – Intoxicated from the night before, or getting drunk again before one has recovered entirely from inebriation. Since the 1860s.
Standing too long in the sun – Cf. "Has the sun in one's eyes." British.
Starched – Cf. "Glued," "Stiff."
Starchery
Starchy – British, since the 1870s.
Stark drunk
Stark raving drunk
Starting to feel good
Starting to feel pretty good
Starting to feel rosy
Starting to get lit up
Starting to glow
Starting to show one's drink
Starting to spoil – US army slang.
Staying late at the office – The idea is that a businessman is telling his wife he will be working late when in fact he is having drinks with his office buddies. Cf. "Detained on business."
Steamboats - Relatively recent derivation from "Steaming." Used in Scotland.
Steamed - Scottish slang
Steamed up – Fighting drunk.
Steaming
Steamboats
Steeped
Stepping high
Stew
Stewed – Noted by Benjamin Franklin.
Stewed as a fresh boiled owl – See "Drunk as a boiled owl."
Stewed as a prune
Stewed like a prune
Stewed, screwed and tattooed – See "Screwed, blued and tattooed." Nautical.
Stewed to the ears
Stewed to the eyebrows – Since the 1700s.
Stewed to the gills
Stewed up
Stibbed
Sticked – "Stick" is potent potable added to another drink.
Stiff – Passed out cold, or because one feels and/or looks like a corpse. Since the early 1700s.
Stiff as a board
Stiff as a carp
Stiff as a goat
Stiff as a plank
Stiff as a ramrod
Stiff as a ringbolt
Stiffed
Stimulated
Stingoed – From British "stingo," strong ale.
Stinkarooed
Stinking – Very drunk.
Stinking drunk – Patterned on "stinking rich" rather than the stink of alcohol.
Stinko

Stinko paralytico
Stinko profundo
Stinky
Stitched – Cf. "Sewed up." Since the early 1700s.
Stocked up
Stoked
Stole a Manchet/roll out of the brewer's basket – "Manchet" is an archaic word for a wheat loaf. Noted by Benjamin Franklin.
Stolled – British, possibly a form of "stolen," or from "stoll," to tipple. 1800s.
Stolling
Stone blind
Stone cold drunk – Suggests "dead drunk."
Stone drunk
Stoned
Stoned getting those grapes – Drunk on wine
Stoned on the suds
Stoned out – Cool talk since the 1940s.
Stoned out of one's mind
Stoned to a tilt – Appears in Bernard Wolf's story "The Girl with the Rapid Eye Movements." Apparently refers to marijuana, but since "Stoned" can mean intoxicated with alcohol, presumably this phrase could mean "drunk" as well.
Stoned to the eyes – As drunk as one can be.
Stoned to the gills
Stoned to the tits
Stonkered – Out of action. Military use.
Stony/Stoney blind – British variant of "Stone blind."
Stotious – Irish dialect
Stove in
Stozzled
Street-loaded
Stretched – Very drunk.
Striking it down – Nautical.
Striped
Strong
Strung-out – Possibly from drug slang. Since the 1950s.
Stubbed – Noted by Benjamin Franklin.
Stuccoed – Elaboration of "Plastered."
Studding sails out
Stuffed – Cf. "Full."
Stumble-drunk
Stung
Stunked
Stunko
Stunned
Stupefied
Stupid – Very drunk. Widespread since the 1800s.
Stupid legged
Subtle as a fox
Sucked – "Suck" is wine or strong liquor, or a drink of spirits. British, 1800s.
Sucked the monkey – In the lingo of sailors, the "monkey" was the cask that contained their liquor. To "suck the monkey" was to drink from this cask clandestinely with a straw through a small hole. Another method of sneaking a drink was to empty a coconut of its milk and refill it with booze. Today one can "suck the monkey" from any container. Dates from the 1800s. Cf. "Tapped the Admiral."
Sucky/Suckey – British, 1600s to 1700s.
Suffering a swollen head
Suffing from M.B. – See "M.B."
Suffering from the flu – Cf. "Ill," "Under the weather."
Suffering no pain
Sun has been hot today – Because, in Britain, a reaper might take some cider with him while working in the fields, and get drunker and drunker as he sought to slake his thirst.
Sun in the eyes – See "Has the sun in one's eyes." British & US, since the 1800s.
Sun over the fore-yard
Sunk
Sunk like a brick
Supercharged – British & US, esp. aeronautical engineers, since circa 1926.
Sure feeling good
Sure 'nuff drunk
Sure petrified
Sure tied one on
Surveying the highways – A "surveyor of the highways" is someone who is reeling or rolling drunk.
Suttle
Swacked
Swacked up
Swacko
Swallowed a hare – Very drunk. Either because the hare (hair?) needs washing down, or because its jumping causes instability. British, late 1700s.
Swallowed a sailor – Drunk on rum. Port and harbor use.
Swallowed a tavern token – Late 1500s to 1700s.
Swamped/Swampt – Sunk by too much liquid. Since the early 1700s.
Swatched – Possibly from a Warwickshire term for a woman who is sloppily dressed. British, since the 1950s.
Swatted
Swattled – British & US, since the 1800s.
Swazzled/Swozzled – Since the 1800s.
Sweet – Caribbean.
Swerved – US college slang.
Swigged
Swiggled
Swilliking - Said of a man who drinks till the liquor can be heard "swilking" around in his stomach. Appears in Francis Taylor's Folk-Speech of South Lancashire. In use up to at least 1901.
Swilled – Since the 1800s.
Swilled up
Swillo
Swine-drunk – Heavily inebriated. Since the late 1500s.
Swined
Swinnied
Swinny – Dizzy, giddy. British, late 1800s.
Swiny/Swiney
Swiped – Since the 1800s.
Swipy/Swipey – Tipsy. British, from circa 1844; rare by 1900.
Switched
Switched-on
Switchy
Swiveled
Swively – From the movement of a swivel. British & US, from the 1850s; now rare.
Swizzled – Since the mid 1800s.
Swizzly
Swoozled
Swozzled – Since the mid 1800s.
A to B | C to D | E to H | I to O | P to S | T to Z | Quotes | Trivia
Return to Drunk Central

Stagger back to the Crazy Cosmos